Modern Digital Wall Clock with 16.5" Large LED Screen
Functional Home Decor - Concise style, clear to read, simple white bold numbers and elegant look meet all your decoration need. XREXS large digital wall clocks function as beautiful wall decor pieces besides telling time, and bring both style and purpose to any room.
4 Level Brightness & Auto Dimming - With 4 level adjustable brightness display, you can easily adjust to a comfortable brightness manually by using the remote control. At night, the automatic dimmer can adjust the brightness based on the light levels , no glaring light at night but bright enough to read time.
Accurate Date and Time - This digital calendar alarm day clock set calendar, timer and alarm clock in one, accurate dates and times will keep you from missing important meetings and appointments.
Digital Calendar Day Clock for Elderly - Designed to make it easier for people of all ages, including seniors with impaired version to see and read from multiple angles,and long distances.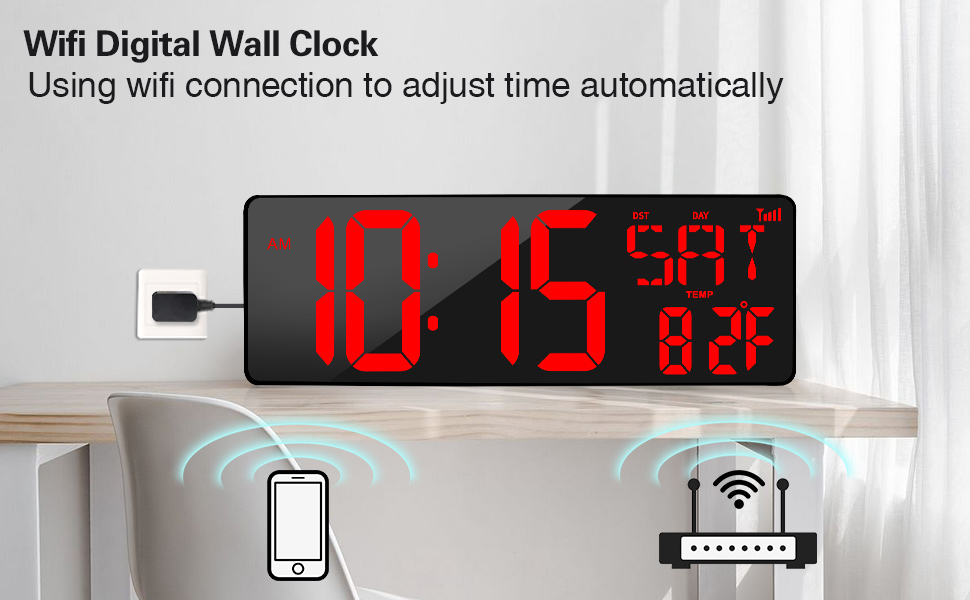 WIFI Connection- Adjust time automaticlly & No need to manual Setting
Built-in technology to use WiFi to connect to a standard Internet time server. With this feature, it maintains current time automatically without intervention. As long as you connect the clock to WiFi with Internet access, it will adjust time for you! What 's more, the large digital wall clock can be used without WiFi like the normal clock.
Autoset time - Simply connect the WIFI and choose you local city code, the clock will sets itself to the correct time once connect WIFI, hassle free to set time.
Auto DST - The clock can automatically adjusts to Daylight Savings Time, release yourself from resetting the time during Daylight saving time and winter time!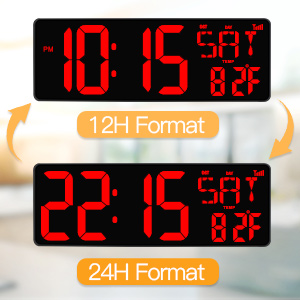 Automatically Sync Time
One of the biggest advantages of this WiFi digital clock is that it can automatically synchronize the time, which will keep you reliably informed of the time, you don't need to worry about the inaccuracy of the time.
6 time zones (PST,MST,CST,EST,AKST, HST) to choose
Auto DST(can also turn it off if there is no need)
Also work as a regular clock without WiFi
Multiple Applications
Extra-large high-contrast LED screen with 4.84 inch tall bold digits display, time is easy to view at a glance, providing you with a good visual experience!
Perfect for:
Home, Offices, Shop
Classroom, Gym, Garage
Hospital, Hotel Hall & Conference/Meeting Room
Senior or Person With Poor Eyesight
Regular and Military Time Display
12 or 24 hour display formats with temperature display in ℃ or ℉, allow you to keep abreast of changes in indoor temperature.
Press the "+/12/24"button to change 12H to 24H
Press the "-/℃/℉"button to change ℃ to ℉
Product Specifiction:
Digits Height: 4.84 in
Clock Size: 16.5 x 5.7 x 0.98 in
Clock Weight: 1.94 lb (0.88 kg)
Cord Length: 6.56 ft (2 meters)