Modern Digital Wall Clock with 16.5" Large LED Screen.
Handy Remote Control and Button Control - Two set up modes for your choice, you can easily set up clock with buttons on the device or remote control, it is easy to operation.
Accurate Date and Time - This digital calendar alarm day clock set calendar, timer and alarm clock in one, accurate dates and times will keep you from missing important meetings and appointments.
Digital Calendar Day Clock for Elderly - Designed to make it easier for people of all ages, including seniors with impaired version to see and read from multiple angles,and long distances.
Atuo-dimming and 4-Level Adjustable Brightness Control
There are 171 LED lights in the clock and provide sufficient brightness in the daytime. At night the automatic dimmer will adjust the appropriate sleep brightness, will not disturb you to sleep. Also, you can shut out display completely during night time if needed.
The automatic dimmer automatically adjusts the brightness of the clock according to the ambient brightness, saving you the steps of manual operation.

4-level adjustable manual brightness can be operated by remote control, choose the brightness according to your need.
Alarm clock with snooze function
XREXS digital day calendar alarm clock with features of clear alarm sounds and precise time will be your reliable assistant for wake-up service. 5 minutes snooze function helps you better get up. If you want to turn off the alarm clock, just press any other buttons. Three alarm clock working modes, meet your different needs.
1E means working everyday;
2E means working on Monday to Friday;
3E means working on weekend.
Multiple Applications
"Extra-large high-contrast LED screen with 4.84 inch tall bold digits display, time is easy to view at a glance, providing you with a good visual experience!
Perfect for:
Home, Offices, Shop

Classroom, Gym, Garage
Hospital, Hotel Hall & Conference/Meeting Room
Senior or Person With Poor Eyesight"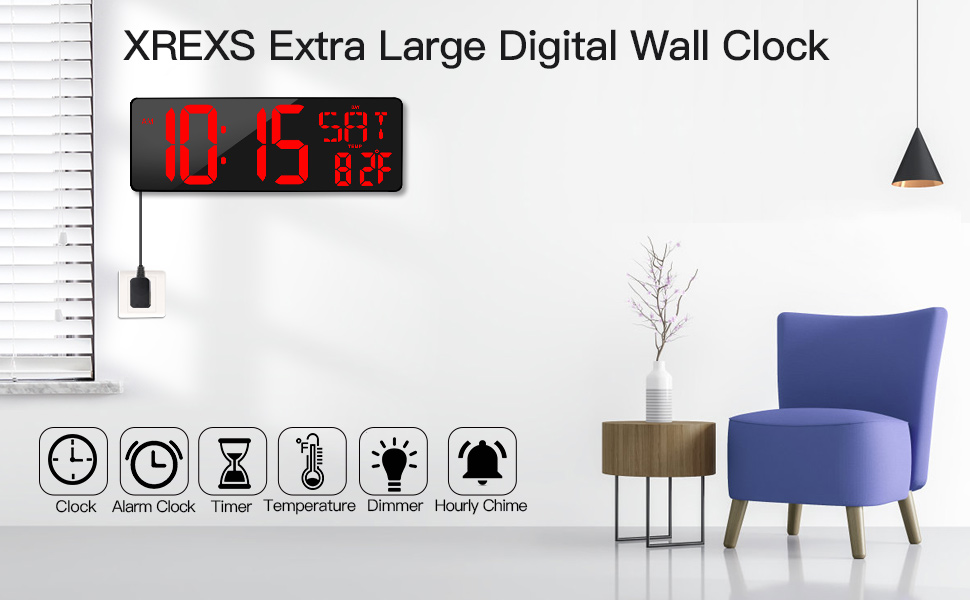 Regular and Military Time Display
"12 or 24 hour display formats with temperature display in ℃ or ℉, allow you to keep abreast of changes in indoor temperature.
Press the ""+/12/24""button to change 12H to 24H
Press the ""-/℃/℉""button to change ℃ to ℉
Digits Height: 5.7 in
Clock Size: 16.5 x 5.7 x 0.98 in
Product Weight: 1.2 kg(2.65 lb)"